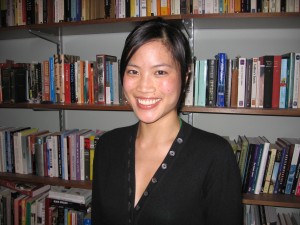 Amy Tang is Assistant Professor of English and American Studies at Wesleyan University. Her research and teaching focus on the relationship between aesthetic form and politics in Asian American literature and theory, understood in comparative relation to mainstream and other minority literary and critical traditions. Using formal analysis as a way to reconsider impasses in Asian American theory and criticism, her work explores Asian American texts as self-reflexive investigations of the conditions and limits of minority writing in the United States.
She is completing a book, Repetition in Asian American Culture, which explores the politics and poetics of repetition in Asian American literature, art, and criticism. Avoiding the political romanticism that accompanies prevailing understandings of repetition, the book reconsiders the political grammar of trauma, mimicry, intertextuality, pastiche, and self-reflexivity in order to demonstrate how repetition in Asian American culture is not simply a technology for reclaiming the past but rather a strategy for illuminating, and sometimes modeling alternatives to, the social and cultural contradictions of the present.
She holds a Ph.D from Stanford University (2009) and a B.A. from Harvard University (1994). She has been a fellow at Wesleyan's Center for the Humanities, Stanford's Center for the Humanities, and Stanford's Center for the Study of Race and Ethnicity. Her essay "Postmodern Repetitions: Parody, Trauma, and the Case of Kara Walker" recently appeared in differences: A Journal of Feminist Cultural Studies.